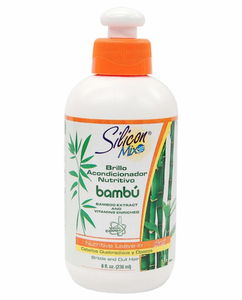 Silicon Mix Bambu Nutritive Leave-In Treatment 8 oz
Silicon Mix Bambu Nutritive Leave-In Treatment 8 oz
Bamboo extract and Vitamins enriched. Brittle and Dull Hair.
Use to comb your hair.
Contains Bamboo Extract, a natural product to regenerate and nourish the hair and Silicones to smooth and give shine.
Prevents hair breakage and split ends. Vitamins A, E, "F", H (Biotin), H', Pro-Vitamina B5 (Panthenol), H8 (Inositol) and Horse Chestnut Extract improve the healthand beauty of the hair, helping it to grow longer.