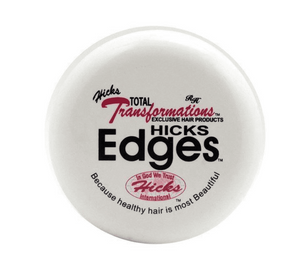 Hicks Total Transformations Hicks Edges Pomade
Hicks Total transformations, Hicks Edges holds hair firmly in place with a super shine and without flakiness. Leaves edges looking and feeling shinier and healthier than before. This genuine hair gel is non-flaky and non-sticky and rinses out easily. Control tapered cuts and nape back area. Directions: Apply a small amount of transformations Smooth Edges around edges and smooth with fingertips until hair stays in place or comb in smooth with a comb.
Order before 3pm we deliver same day in Hartford, Bloomfield, East Hartford in CT (Monday - Saturday). **We cannot accept Return or Exchange while Coronavirus season. All sales are final. We cannot take back any item because of Coronavirus.