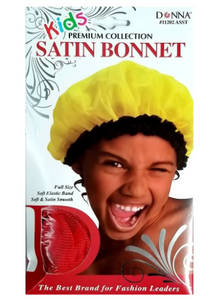 Donna Kids Satin Bonnet
The Donna Kids Satin Bonnet is designed specifically to help your child keep their hair looking its best as soon as they wake up. The non-abrasive satin doesn't pull on hair or cause breakage, instead retaining moisture and hair's natural oils. The sleep bonnet has an elastic band that makes it easy to fit over a variety of styles and stay snugly in place throughout the night. 
Order before 3pm we deliver same day in Hartford, Bloomfield, East Hartford in CT (Monday - Saturday). **We cannot accept Return or Exchange while Coronavirus season. All sales are final. We cannot take back any item because of Coronavirus.