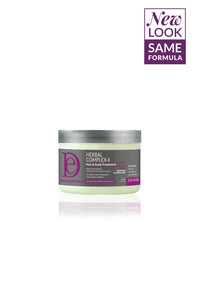 Design Essentials Herbal Complex 4 Hair & Scalp Treatment
The treatment is a perfect blend for moisturizing the hair and alleviating dry scalp and irritation.
Give your scalp some love with the Design Essentials® Herbal Complex 4 Hair & Scalp Treatment. This is a lightweight compound of four essential herbs: Black Indian hemp, ginseng, horsetail, and rosemary.
Benefits
Lightweight formula leaves hair silky, bouncy, and full of body 
Provides excellent thermal protection from heat styling
Softens hair for easy intricate styling
Ideal for daily use, and is great for multiple styling needs
Key Ingredients
BOTANICAL BLEND OF BLACK INDIAN HEMP, GINSENG, HORSETAIL AND ROSEMARY provides and restores natural moisture and shine to the hair
How To Use
Apply a small amount to hands and emulsify.
Smooth throughout the hair, or apply directly to scalp.