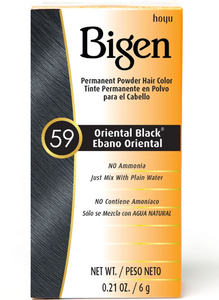 BIGEN PERMANENT POWDER HAIR COLOR
Bigen Permanent Powder is a deposit-only hair color which does not require lifting (lightening) action to darken hair. While some ordinary permanent hair colors unnecessarily utilize both actions, Bigen's simple coloring system means less damage to your hair. Bigen Permanent Powder Hair Color leaves your hair looking smooth, natural-looking and shiny.
Order before 3pm we deliver same day in Hartford, Bloomfield, East Hartford in CT (Monday - Saturday). **We cannot accept Return or Exchange while Coronavirus season. All sales are final. We cannot take back any item because of Coronavirus.