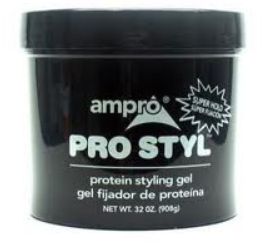 AMPRO PRO STYL SUPER HOLD GEL
Ampro Pro Styl Protein Styling Gel Super 

Use our Super Hold Protein Styling Gel to add body and sheen to hair while providing a super firm, yet natural feeling hold. This non-greasy, water based formula will not flake and is alcohol-free. Ideal for use with sculptured styles, roller sets, finger waves, locks, and twists. 
Order before 3pm we deliver same day in Hartford, Bloomfield, East Hartford in CT (Monday - Saturday). **We cannot accept Return or Exchange while Coronavirus season. All sales are final. We cannot take back any item because of Coronavirus.