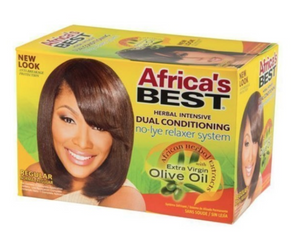 Africa's Best Herbal Intensive No-lye Relaxer System 1 Kit


Africa's Best Herbal Intensive Dual Conditioning No-lye Relaxer System delivers superior straightening with the very best nourishment, conditioning, and protection for your hair. Enjoy healthy, shiny, silky strands thanks to key conditioning agents like Extra Virgin Olive Oil and our special blend of Herbal African Extracts. designed for normal hair textures.
Order before 3pm we deliver same day in Hartford, Bloomfield, East Hartford in CT (Monday - Saturday). **We cannot accept Return or Exchange while Coronavirus season. All sales are final. We cannot take back any item because of Coronavirus.