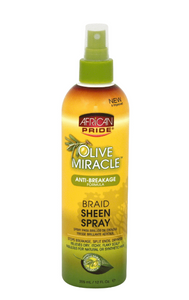 AFRICAN PRIDE OLIVE MIRACLE BRAID SHEEN SPRAY
Anti-breakage formula. Stops breakage, split ends, dryness. Relieves dry, itchy, flaky scalp. Fabulous for natural or synthetic hair. Growth miracle formula. African Pride's Olive Miracle formula is rich in extra virgin olive oil for the ultimate in silky smooth deep conditioned hair and a moisture-rich healthy scalp. Regular use dramatically reduces breakage, split ends and dryness. Soothes braid tightness and soreness. Relieves itching and dryness.
Order before 3pm we deliver same day in Hartford, Bloomfield, East Hartford in CT (Monday - Saturday). **We cannot accept Return or Exchange while Coronavirus season. All sales are final. We cannot take back any item because of Coronavirus.